I've started my Summer designs my first is this Rollercoaster
down, up, loop de loop and that end rush with a You must be this tall sign.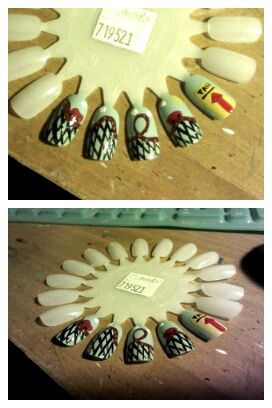 Sky is China Glaze Kinetic Candy
Coaster is China Glaze Brownstone
China Glaze Elephant Walk(as rivets)
Sinful Colors Black on black
Clouds are China Glaze White on White
The sign is China Glaze Solar powered and OPI Big Apple red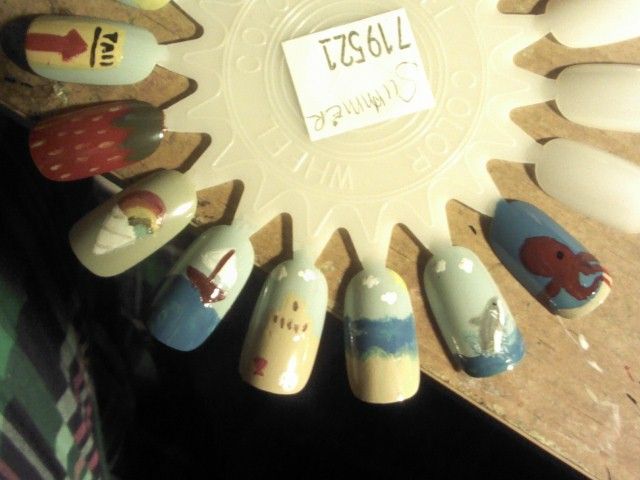 Summer Beach and Snow Cone with a strawberry <3
So I did a nice strawberry, always makes me think of summer and a snow cone! I absolutely adore it, OPI Stranger tides background, which I thought looked quite perfect. One of the polish was glittery which made me think of snow cone accessories as a pendent and the lot.
Then of course, the beach! a nice sailboat, sandcastle, lovely beach scene and what looks like a dolphin but i assure you is a shark breaching :P and the wondrous Octopus! I quite liked the octopus, so cute!
Mostly all the same polishes,
OPI Ogre The Top Blue
OPI Big Apple red
OPI Mermaids Tears
China Glaze Kalahari Kiss
China Glaze Elephant Walk
China Glaze White on White
China Glaze Brownstone
my usual mix :D
I may have one or two more designs as summer ends and fall begins
I'm looking forward to the foliage as inspiration. (as if we have seasons around here that aren't fog or no fog)