So my manis this week were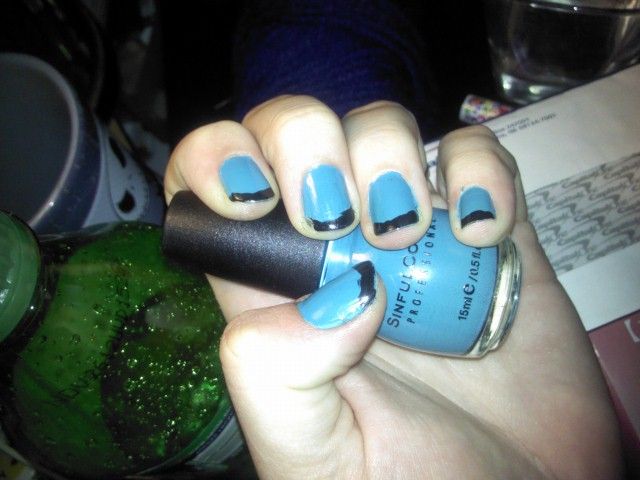 Sinful colors: savage and Black on Black.
I find Savage to be a good substitute (but not nearly as good) as OPI FLY
Then a new ELF Python Nail Polish.
Its a dark green with a light green glitter. Looked black to someone today -_- but they told me I'm the only they liked black on :D
Then I've been watching Make up tutorials and tried to do a cute glittery blue fairy make up look I was considering for a rave.
my eyes get so red from make up cause i was messing and redoing a lot @-@
my Shadow up close
lips!
The lighting isn't great -_-;
Materials!
Stila one step make up in Fair
ELF Clarifying Pressed Powder in Ivory
Benefit Dallas for blush cheek depth
Eyes:
ELF Eye Primer
Project Runway Limited Edition Eye shadow Charming Cockatoos Gaze (bottom left color)
Rimmel London (my fav make up brand) Glam Eyes in Royal Blue for the dark blue lids and white shimmer on the brow bone .
Covergirl Perfect Point Plus in Midnight Blue eyeliner
Maybelline Great Lashes Totally Teal limited edition Mascara
I had a brown in my Makeup pallete from school I used to define my eyebrows and some light brown powder for definition in my eyes and nose.
Lips
Jordana 49 Sexy Mauve Lip Liner
NYC 305 ruby
NYX Jumbo Eye Pencil 632 Peacock
x0x0x0x0x0x0