Been awhile since I've posted but fear not! I am here.
I've been quite distracted by Borderlands 2 (working on a nail design for that), I was also planning one for pirate day but....video games are my weakness I swear! I may post one later anyway.
BUT! I do have some new polish I tried and some that I still need to try.
and I did my FMIL(future-mother-in-law) hair. So with the lovely tip I got, I treated myself to new make up!
I also got six new shadows for .40 cents each at Sallys for their end of the month half off the clearance sale.
I also got a cute little package of a winter nail strip. Has lovely snow flakes on them.
MANI'S
I tried some Ombre nails and did the rainbow.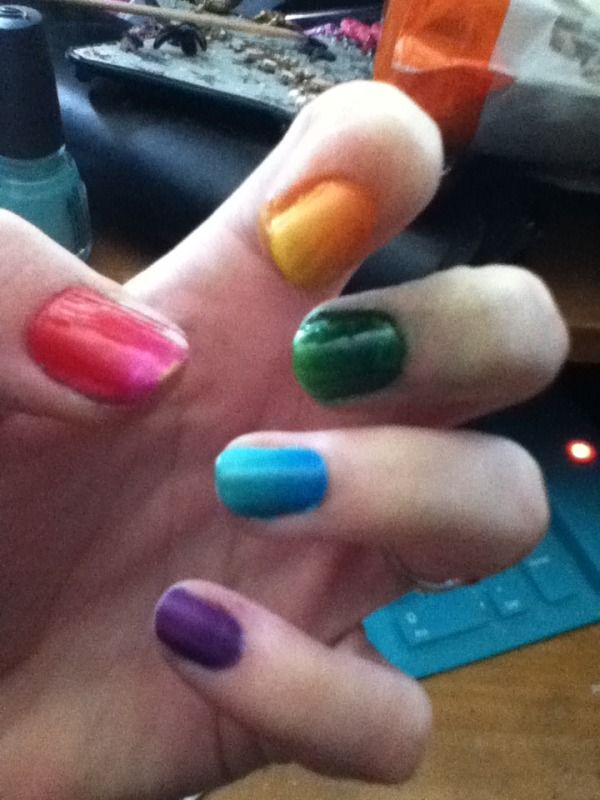 red nail is
Sinful Colors Forget now
China Glaze Poinsettia
OPI Bigg apple Red
Orange/yellow nail is
China Glaze Solar powered
and Breakin
sinful colors cloud 9
Green nail is
wet n wild Sage in the city
China Glaze Holly Day
Sinful colors Last Chance
Blue Nail is
China Glaze aquadelic
OPI Fly
OPI Ogre the top blue
Purple/violet nail is
China Glaze Gothic Lolita
Sinful colors Amethyst
Germany collection
OPI Berlin there done that
I got a new one and I love the neutrality of it
a nice tanish beige but a hint of grey
ELF and Disney have released three night/day palette and I was able to get my hands on two of them!
I got the beautiful Maleficent and the fairest of them all (second only to one) Evil Queen!
I'll post the looks on myself soon and see if I looks as beautiful as these Disney Legends.
BTW have you heard about Disney Villains Designer Collection?
I WISH WISH WIIISSHH I could afford one doll. $75 though. OUCH.
they are beautiful though and a lovely revamp.
I found more here:
More soon!
xoxoxoxoxo