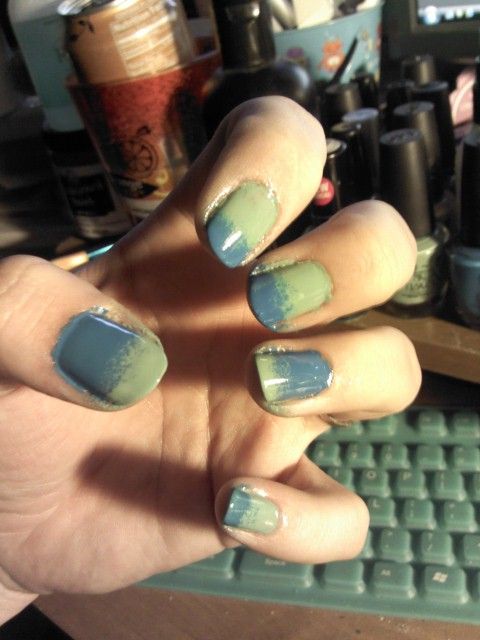 It is NOT cleaned up, but I was messing around thinking of what to do and I started messing with a make up sponge....and doing a french tip and I was like Yay!
I saw a pretty dress in the green and blue colors and decided that was the color combo I wanted.
OPI Mermaids Tears and Ogre the Top Blue were the closest I had to the colors.
Sponges are so much fun, they give such cool effects, speckles, fading and the like.
I was thinking it would be great for blood splatter effects for Halloween or Dexter nails.
I had wanted m effect to be more....precise but I wasn't trying hard....
BUT! If you don't have make-up sponges I sincerely suggest you get some.
Great for make up, nail art arts, and crafts and whatever else I love having them.
Now, I used Seche Vite for a top coat and it spread the french tip coat and made some the specks go away which was sad so I'll have to experiment with dryness to top coat I guess.
I have been drawing designs and I will be putting them to nail when I get some Nail Wheels, I think my next Mani will be more Rave attire appropriate as I may be attending one Saturday. I guess.
We will see.
Fare thee Well Readers.
Also One follower! Whoo hoo I'm hitting the big time
Thanks friend! :3