I rocked this mani at my friends birthday party this last weekend and it made me think of Easter mostly.
China Glaze Aquadelic and Brownstone.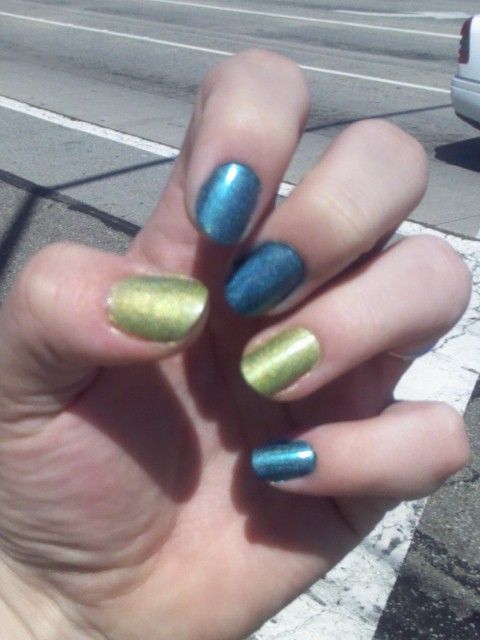 I had this mani about Wednesday and it chipped badly because I had to remove stickers so it was removed in a day. :(
China Glaze techno teal and Laser Lime
(elecTRONica collection)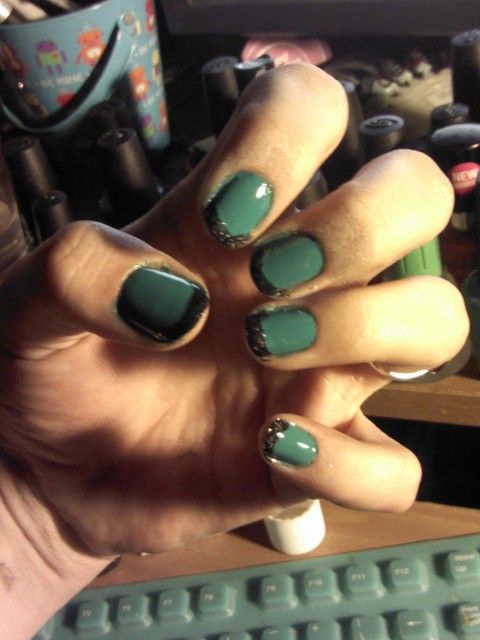 My current manicure and my favorite blue is from the OPI Nicki Minaj collection fly and the french tip is Metallic 4 Life.
I've noticed this trend of glitter french tips or french tip fading which looks really nice so my current mani reflects that. I think for my next mani will either be stamping or trying craft glitter on my nails.I need to buy a new white which means buying my favorite white, that is, China Glaze White on White, always so opaque and a very smooth white.
The craft glitter I have makes me think of Valentines day though so I may just be preparing a future post on that, but I do want to start the pink on Wednesdays so the glitter may look good for that.
I've also been using seche vite as a top coat and I used to not like it very much, but its great for evening out nail art and it is very fast drying.
Also I really need to remember to take pictures in the daylight, shows the color so much better but ost days are so foggy it doesn't even matter.....
I'm also working on my blog layout so it'll be more customized to my style and going to link to my friends blogs! or any favorites I have but mostly my friends.
I've been watching Grimm on hulu and may have to do some Grimm fairy tale themed art and I definitely need to do some Disney designs, mostly Disneyland inspired but I will do my favorite classics.
SO I need more nail wheels!!
So there is my manis of this week since I will probably be keeping my current all weekend.
More to come!